MDF stands for Medium-density fiberboard and is often used in school projects due to its flexibility. Panel siding made of MDF is used in the shop fitting industry. MDF is mainly used for indoor applications due to its poor moisture resistance. It is available in pristine form, or with a finely sanded finish, or with a decorative overlay. MDF can also be used in furniture such as cabinets, floors and even speaker enclosures because of its solid surface.

Recently, we received a request for trial cutting of MDF from MDF manufacturers. We used AOL's MDF cutting machine to cut MDF. The cutting effect is good and the customer is satisfied. We welcome customers who have the same cutting needs to try cutting at any time.
MDF board cutting machine is specially designed for MDF board, PVC board, KT board, acrylic etc. As the undisputed industry leader and innovator in the advertising cutting market, AOL invented the high-end MDF board cutting machine to provide reliable support for heavy industrial production and illustrate the powerful potential of cutting optimization in special applications. The MDF cutting machine is constantly innovating and adding added value, combined with router tools and vibrating knife tools, it can excellently process a variety of difficult materials, such as thick acrylic, high density foam, MDF, KT board, PVC board, corrugated board, honeycomb board, self-adhesive, gray cardboard, etc.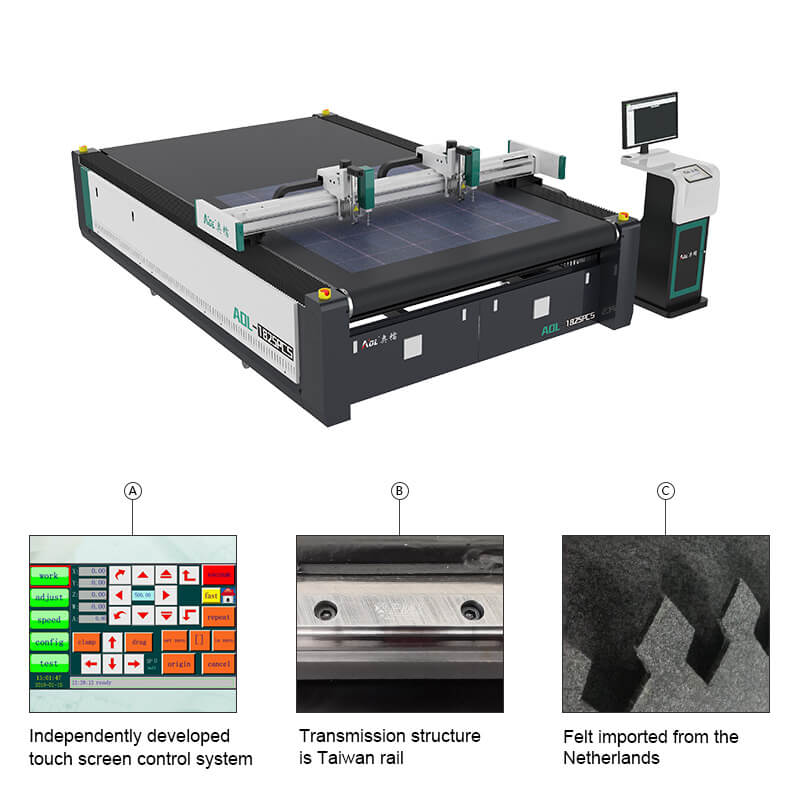 Advantages of AOL MDF board cutting machine:
1. Independently develop and design CAM software, intelligent software compensates, optimizes the cutting path, and improves production energy efficiency.
2. The system intelligently optimizes typesetting and cutting, provides better cutting and filling paths, and saves more than 30% of materials.
3. Infrared induction safety device ensures the safety of the operator during the high-speed movement of the machine and avoids the loss of cutting materials.
4. Anti-static interference and soft start device to protect the safety and stability of the equipment.
5. The sturdy aluminum honeycomb platform has good suction effect, ensuring that the platform is flat and not deformed after long-term use.
6. The parameter setting system can adjust the best cutting parameters according to different materials to ensure the accuracy of each cutting.
7. Precise knife setting system, easy to operate, can accurately control the depth of the knife, and prolong the use time of the mat.
8. Scientific and concise wiring system and chassis circuit design, stable and safe; equipped with all tool interfaces to support subsequent upgrades; easy to install and maintain.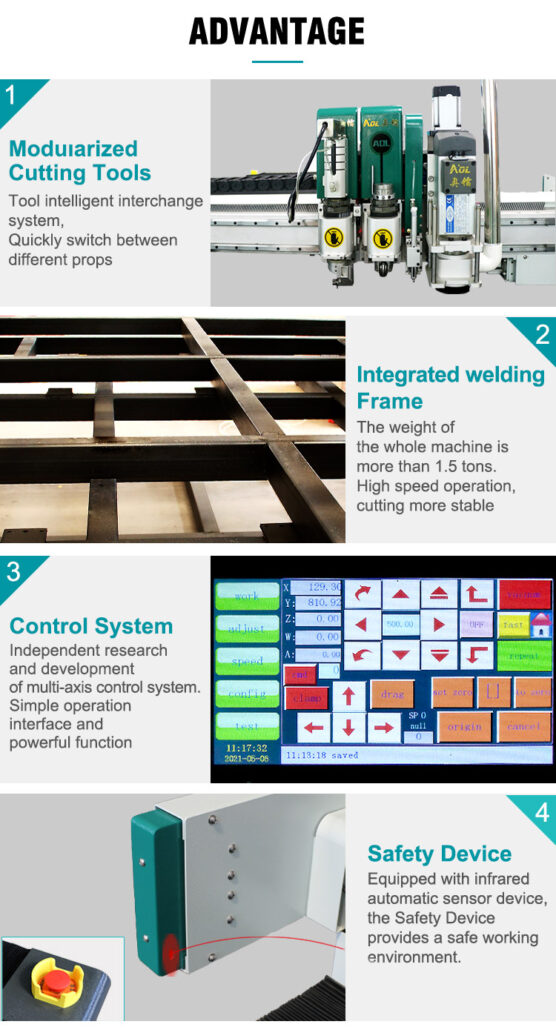 AOL intelligent blade cutting machine has high precision and high efficiency. Our professional after-sales service can provide automatic cutting solutions for various industries.
For more information, please consult:
Email: [email protected]
Phone: +86-531-88620680
WhatsApp/We Chat: 0086-18560162709
youtube: https://www.youtube.com/channel/UCDiNQSjBR5DsAX9QfkWF7AA
Website: https://aollaser.net/