Advantage of Sticker cutting machine plotter
1. The self-adhesive cutting machine import software and layout optimization software are compatible with multiple format files, and can cut with one click.
2. The system is equipped with a large-scale visual recognition system, which can automatically perform image recognition and cutting to realize special-shaped cutting.
3. The self-adhesive cutting machine adopts Japanese Panasonic servo motor to provide stable and continuous power, and the production efficiency is increased by more than four times.
4. The system has operating prompts and tools, can quickly replace modules, save labor costs, low professionalism, and easy to operate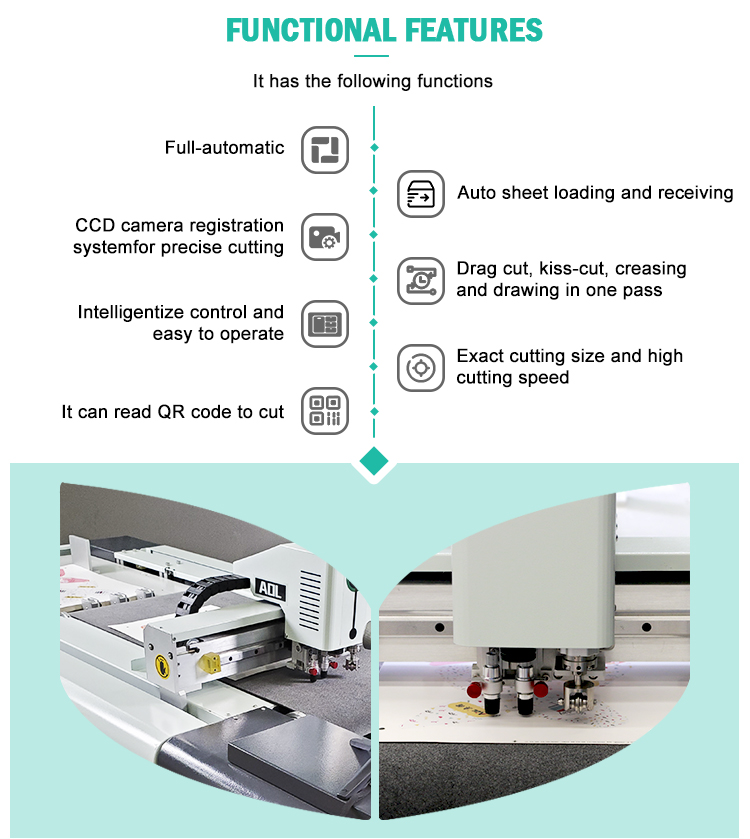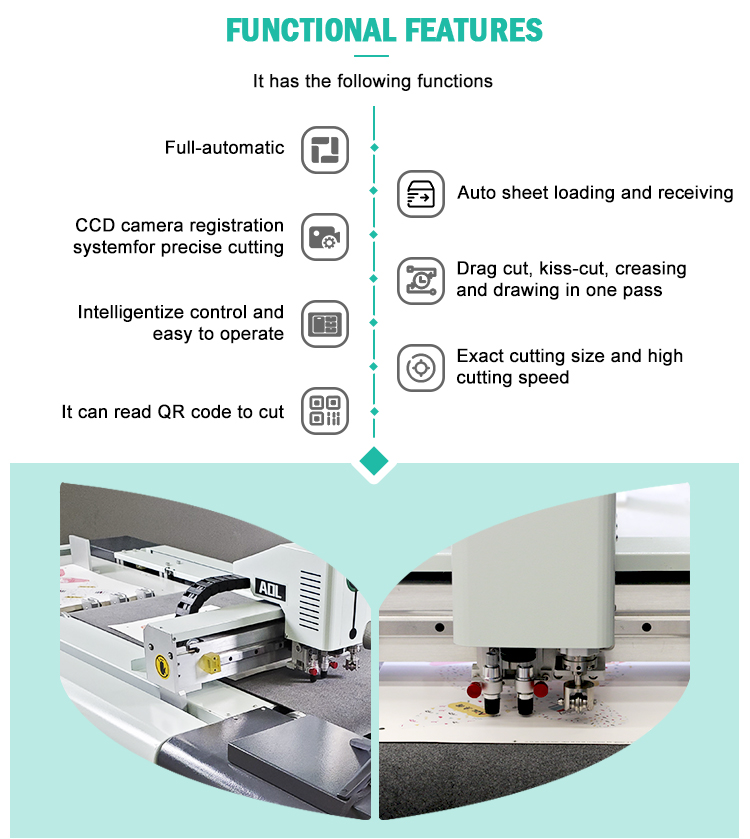 About AOL
AOL has 14 years of professional experience in manufacturing cutting machines. The factory has an annual output of 3,000 units. Our cutting machine can achieve perfect cutting in different material markets. We have provided automatic cutting machines for more than 8,000 users around the world, and provide professional industry material solutions. If you encounter material cutting problems, you are welcome to leave a message for free consultation!
| | |
| --- | --- |
|   Technical parameters |                 1070 |
|                 Effective working area10 |                 1000*700mm |
|                 Multi-function cutting head |                 The combination of Multi-function cutting head and holders, be with full cut, kisscut, creasing wheel,v-cut and laser red light positioning functions, CCD positioning, Camera extract large contour to cut |
|                 Tools |                 Oscillating knife, Milling tool, pneumatic knife, V-cut, crease wheel, kiss cut, drag knife |
|                 Overall size |                 2520*1080*1280mm  L'W'H |
|                 Moving speed |                 800-1500mm/s |
|                 Repeat precIsion |                 ±0.05mm |
|                 Interface |                 Enternet port |
|                 Control panel |                 LCD touch screen |
|                 Drive system |                 Imported servo motor, linear guid, synchronous belt, screw |
|                 Cutting material |                 Paperboard, grey board, KT board, pvc foam board, honeycomb board, car sticker, lamp piece, PP Adhesive material, printing cloth, banner cloth, all kinds of corrugated board, EPE foam, EVA, PVC board, acrylic board, thick foam and so on |
|                 Instruction system |                 HP- GL Compatible format |
|                 Rated power |                 2. 2KW |
|                 Rated voltage |                 220V |
|                 Cutting thickness |                 ≤80mm(According to different material) |
|                 Material fixed way |                 Vacuum adsorption |
|                 Auto feeding system |                 Acuum sucker adsorpting sheet |
Our service
packaging of Sticker cutting machine plotter
1. Outer packaging: standard seaborne export plywood box.
2. Inner packaging: stretchable film and plastic film to prevent moisture. Flexible packaging machine accessories
3. Personalization: If you have special requirements for packaging, you can negotiate friendly.
Shippingof Sticker cutting machine plotter
in general,the FOB delivery method is adopted, and the price is determined according to your designated delivery port and transportation distance. Please leave a message for reference, we have professional staff to calculate the price for you.
After sale service
1. Our standard warranty period starts from the completion of delivery. We provide you with a three-year warranty service and professional machine maintenance.
2. The wearing parts (blade, countertop) are sold to users at the lowest price.
Delivery time
we have our own factory. After placing the order, we will start manufacturing the sticker cutting machine. At the same time, we will make a reasonable delay based on the order volume of the month. Our delivery time is about 15-20 days on average, if you want to specify a time, we can arrange a reasonable time to complete the delivery.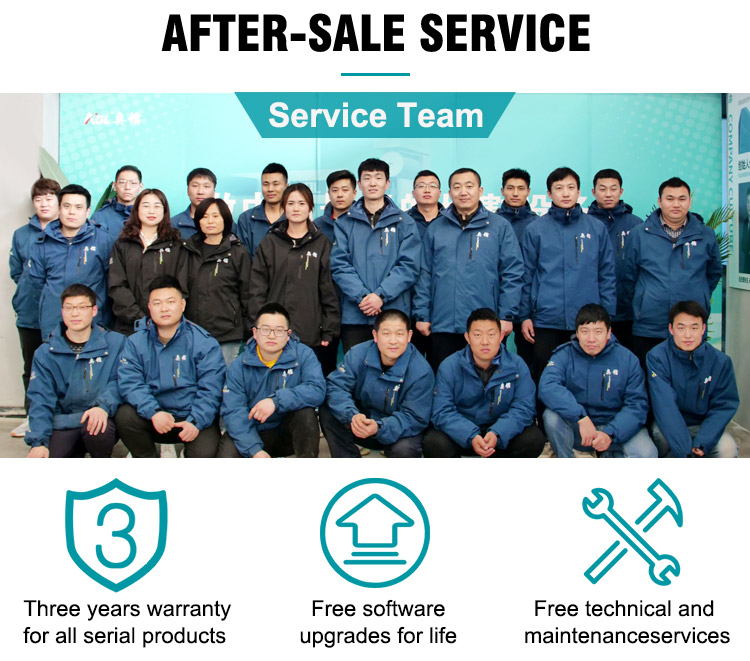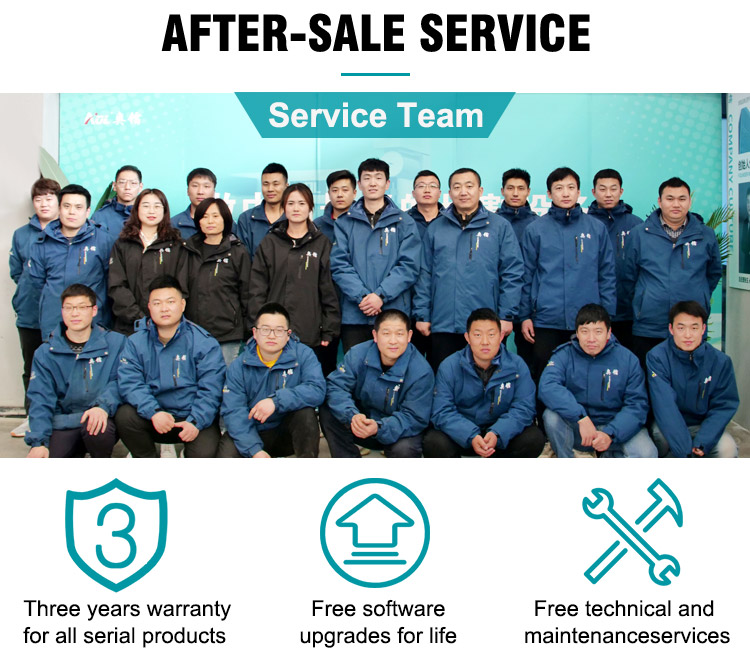 Sticker cutting machine plotter is mainly used in the advertising packaging industry. It is mainly suitable for cutting self-adhesive materials, cardboard, light and thin corrugated cardboard materials, gray cardboard, POP paper ,KT board and other materials. The materials in the advertising packaging industry can achieve high quality Cutting.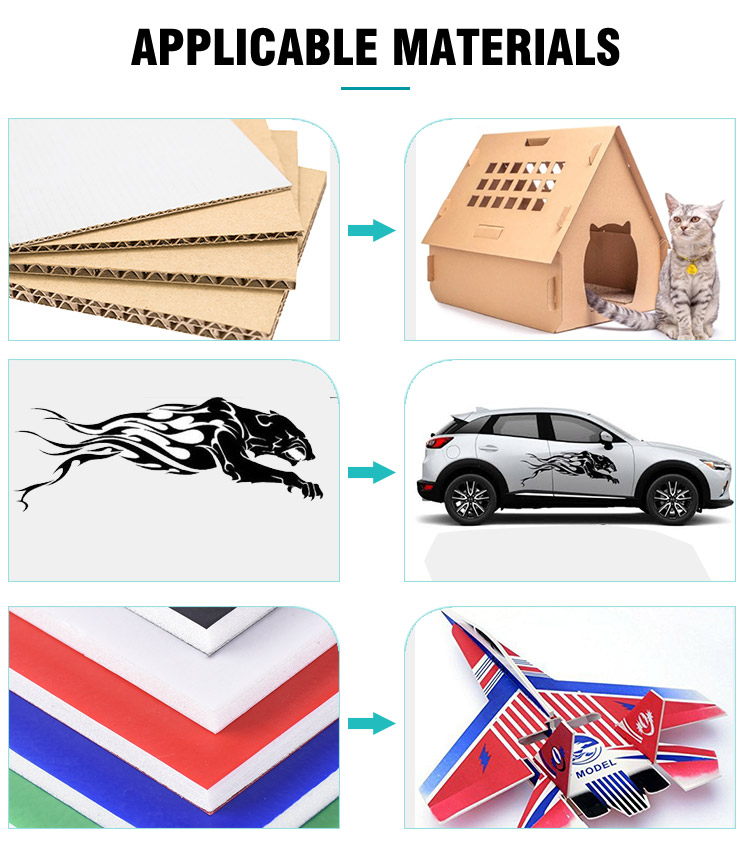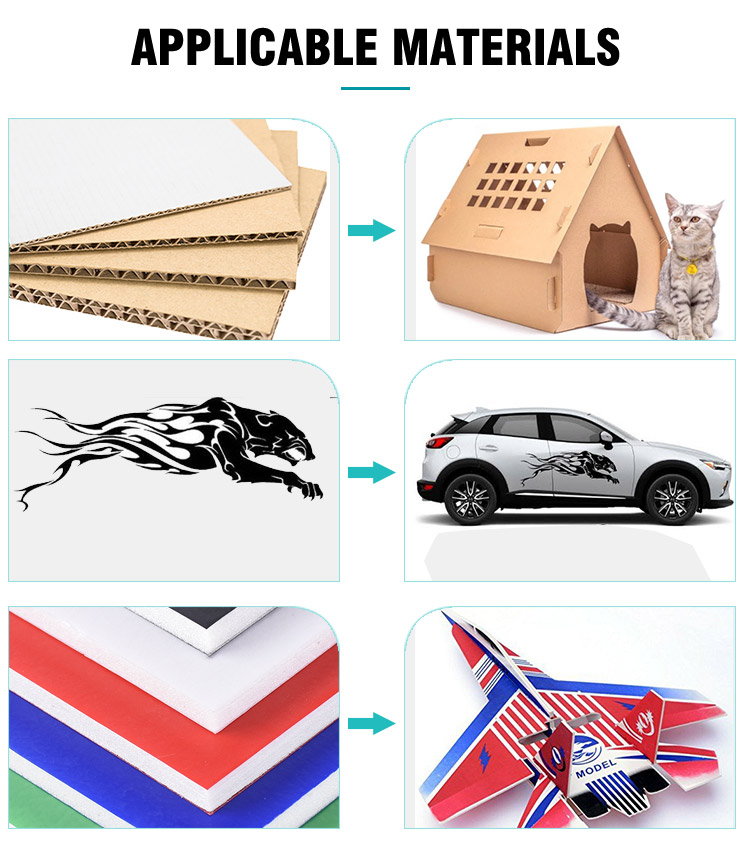 CONTACT
No. 1777 Chunhui Road, Licheng District, Jinan City, Shandong Province, China
+86-531-88620680
0086-18560162709
+86-531-88965706