We can perform precision cutting of insulation materials using CNC equipment. The size of the machine equipment is recommended according to your cutting needs. In addition to the standard model, we also support customized equipment. There are several advantages to using a cutting knife to cut insulation materials. This article shows how we supply fully automated cutting equipment to a wide range of industries through our precision cutting services.
Benefits of CNC cutting rubber insulation and mineral wool?
Precision cutting using CNC equipment can help improve the overall insulation cutting process.
Key advantages of cutting rubber insulation:
1. Clear cut without tearing material
2. Clean the edges for further processing and gluing
3. Nested processes reduce waste
4. Faster cutting
5. Increased productivity for large projects and repeatable parts
6. Improve overall product quality
7. No need to cut the template
8. Less chance of error
9. Small parts with high precision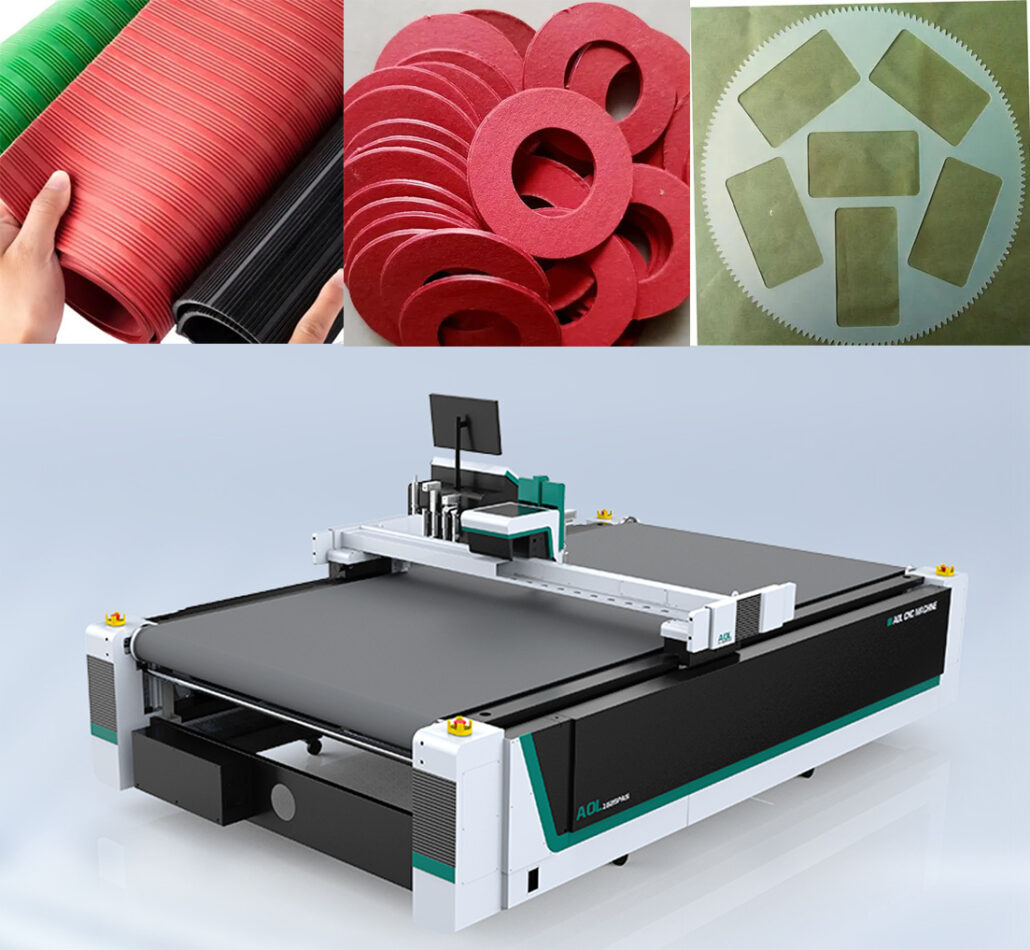 CNC cutting of insulation is faster than manual processes
The process of hand cutting rubber insulation is complex. First, this can be a very tedious task. More importantly, it not only requires physical labor, but also needs to strengthen supervision and management.
Secondly, manual cutting of rubber insulation is more time-consuming than CNC cutting, and it needs to make molds first to complete it. Then use the mold to cut the desired pattern, and one mold can only cut one pattern, if you cut multiple patterns, you need multiple molds.
Which industries do we support with CNC cutting of insulation materials?
We supply the industry with CNC cutting equipment for insulating materials. These industries are mainly:
Heating and Ventilation Ducts
Gaskets for the HVAC industry
Air Handling Units – Internal Acoustic, Thermal and Freeze Insulation
Ventilation with heat recovery
Automobile industry
Van and Auto Insulation
machine builder
Insulation contractor provides precision cut sections for elbows, valves, T-pieces, flanges and other components
Cladding companies for acoustic insulation using aluminum, powder coated or GRC cladding
Turbine Insulation Blanket Cutting Material
The applications for rubber insulation or resilient foam are nearly endless. There are several constraints on where you can use it. Additionally, this insulation works best in certain environments. Some resilient foam insulations are closed-cell insulations. This means it limits the penetration of water vapor through the insulation. Its effect is that the product minimizes or eliminates condensation or frost on insulating surfaces.

How can your industry benefit from using our insulation material CNC cutting machines?
First, you don't need to worry about waste and offcuts from insulation cutting.
In addition, you don't need to make molds, the cutting equipment is fully automatic cutting, you only need to upload the material pattern that needs to be cut
Plus, you don't need to hire extra people to perform the cutting work.
To sum up, the above mentioned are many benefits for merchants when using CNC numerical control cutting equipment to cut insulating materials.
What shapes can our CNC insulation cutting machine cut for you?
The limit is our imagination and material properties. Most customers require complex shapes of CNC cut insulation. Our CNC equipment can meet various shapes of cutting.
What is the cutting process of the insulating material CNC cutting machine?
Next, let's use a video to understand how the insulation material is cut by CNC cutting equipment
Advantages of CNC cutting machine for insulating materials:
1. Self-developed and designed CAM software, intelligent software compensation, optimized cutting path, and improved production energy efficiency.
2. High-quality linear guide rail is adopted, and the precision error is ±0.1mm.
3. Japan's Panasonic servo system provides power, stable and continuous power supply.
4. AOYOO CNC cutting machine is equipped with a variety of knives, which are used for cutting materials in different industries, increasing the added value of the enterprise.
5. AOYOO foam plastic board cutting machine is fully automatic equipment, automatic loading and unloading, saving labor costs.
6. The system intelligently optimizes typesetting and cutting, provides better cutting and filling paths, and saves more than 30% of materials.
7. Power-saving frequency conversion vacuum adsorption, saving more than 30% of power.
8. The infrared sensor safety device ensures the safety of the operator during the high-speed movement of the machine, and at the same time avoids the loss of cutting materials.
9. Aluminum-magnesium alloy adsorption platform, durable and not deformed.
10. Anti-static interference and soft start device to protect the safety and stability of the equipment.
11. The whole machine is dust-proof to reduce the failure rate of the equipment and prolong the service life of the equipment.
We have just talked about the insulation material cutting machine here, if you still want to know more, please contact us! We will answer for you in the first time!