As we all know, the biggest use of corrugated cardboard is to make carton packaging. In fact, corrugated cardboard has many other uses. Like: soft corrugated paper can be made into machine models, animal models, etc. Rigid corrugated cardboard can be used as a construction sandbox. There are also many environmentalists who use thick and reinforced corrugated cardboard to make furniture, like the bed used for athletes in the Tokyo Olympics, which is made of cardboard. The main material of the popular cat scratching board is corrugated cardboard, and there are many pet nests and cat climbing frames that can also be made of corrugated cardboard.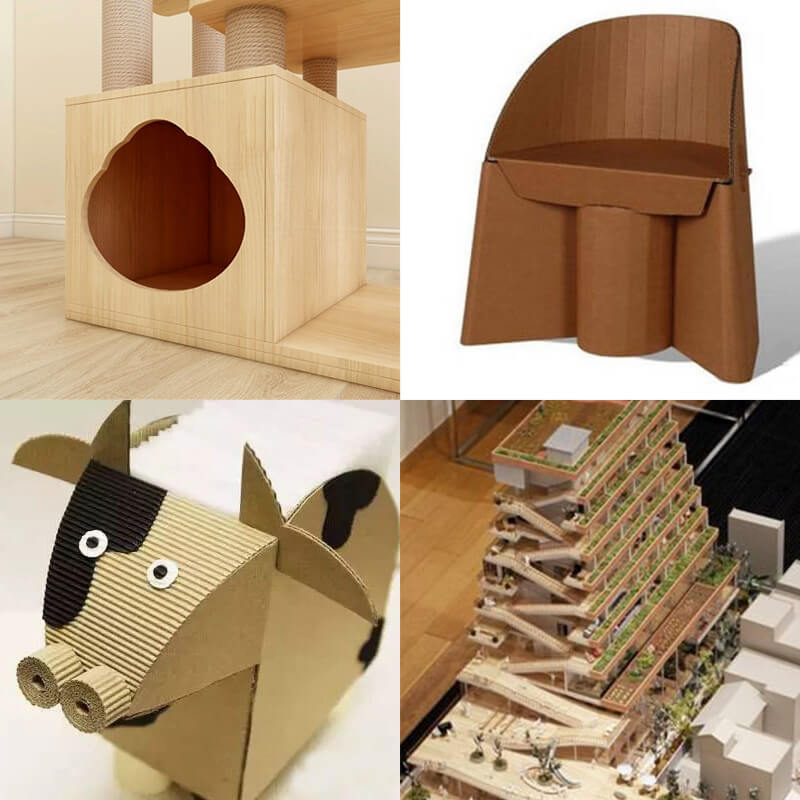 I have also introduced many processes for quickly cutting corrugated boxes with our AOL cutting machine. Since AOL machines can cut corrugated boxes perfectly, we can also cut other products made of corrugated cardboard. Like the popular pet nests, cat crawling frames, cat scratching boards…it can be made quickly with our cutting machine.
Today we mainly introduce how to use a cutting machine to make a cat climbing frame.
Cat climbing frame is a kind of toy that many cat owners will buy now. The cat can not only play well, but also sleep on it, which makes the kitten's life more comfortable and healthy. There are many types of cat climbing frames on the market.
What are the functions of the cat climbing frame?
The hemp rope on the cat climbing frame can be used to sharpen claws, which satisfies the cat's nature to sharpen claws.
The toys on the cat climbing frame can be used for cats to play with.
The space above the cat climbing frame is very open, allowing the cat to lie flat and rest comfortably.
The cat climbing frame has a multi-layer structure, which can meet the cat's nature of climbing and jumping, and at the same time meet the cat's need to look down.
The closed cat litter allows cats to hide themselves and make them sleep more soundly.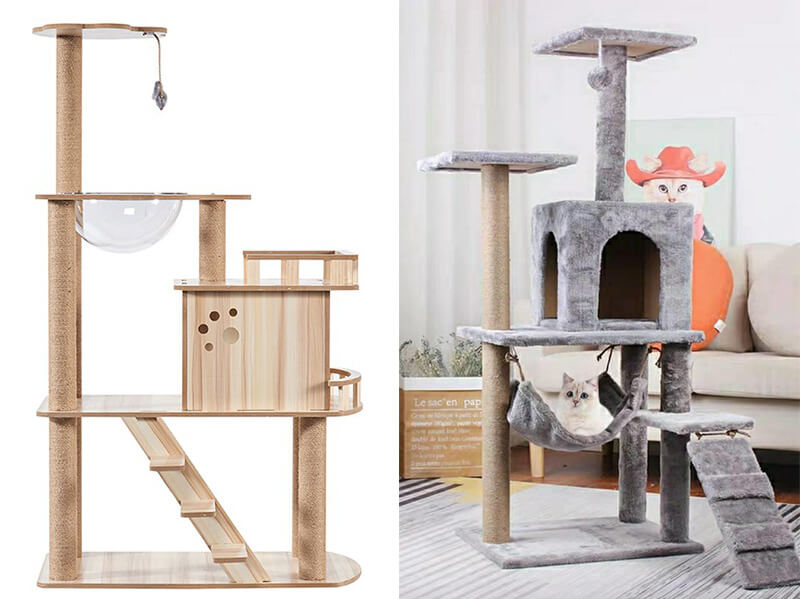 There are several materials for cat climbing frame
Although we are going to introduce the cat climbing tower made of corrugated cardboard, let's talk to the elder sister about the types of cat climbing frames.
The material of particleboard
What is particleboard, is the board made of wood or other wood plant shavings and hot-pressed with adhesive
Disadvantages: To put it bluntly, wood waste is crushed into sawdust and then glued together. The wood will crack when exposed to water, and its stability will become poor. There is a potential safety hazard. There is formaldehyde and the smell is very high. What's more, cats, cats on the market The climbing frame is basically wrapped in flannel.
The core material of this kind of cat climbing frame is generally particleboard, which is not suitable for long-term load-bearing, but it is also possible for only one kitten in the house.
Advantages: cheap! ! ! The characteristic of plush cloth is that it has more colors, looks good with it, and the price is more reasonable, but it is more troublesome to take care of
MDF cat climbing frame
MDF and particle board are basically the same processing technology, but MDF is more suitable for coating processing, and MDF has higher plasticity.
Solid wood cat climbing frame
Solid wood plank, which is cut the tree into the same size and cold pressed together.
The cut material of the solid wood cat climbing frame is pine, and oak or beech wood. Generally, the price of solid wood is relatively expensive. Disadvantages: the solid wood cat climbing frame is easy to deform, because of the moisture content, it will shrink and bend when exposed to moisture and heat. Then there is cat urine, or vomiting, there will be stains on it and it will be difficult to clean.
Corrugated paper/environmental protection paper cat climbing frame
Advantages: The biggest advantage of this material is that it is cheaper. Corrugated paper material, multi-layer design, cats play more enjoyable, there are double or three layers, you can choose freely. Corrugated paper is a tool for cats to sharpen their paws. Cats like it very much.
Disadvantages: But the lifespan is very short, and the cat will be scratched and deformed for a period of time, and it is very afraid of moisture, and the service life of corrugated paper is relatively short.
However, because corrugated paper is convenient and cheap to obtain, many cat owners collect corrugated paper boxes for DIY cat climbing frames or cat litters.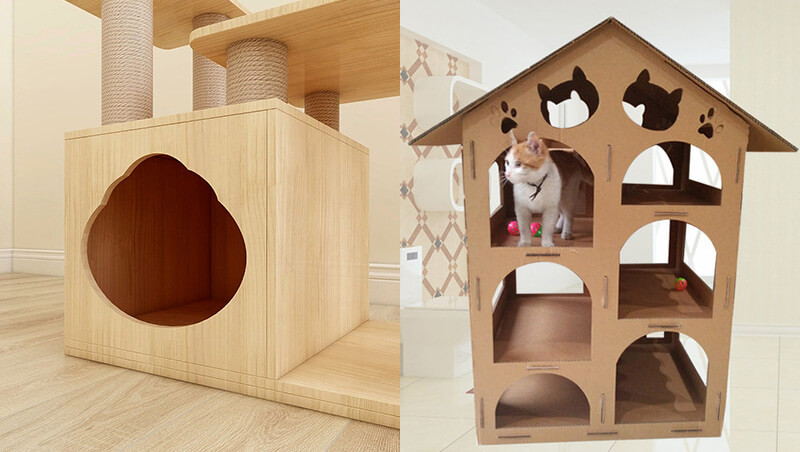 How to use AOL cutting machine to quickly make a cat climbing frame from corrugated cardboard
The production of corrugated boxes and the cutting of corrugated cat climbing frames are basically the same principle, since they are made of corrugated paper as raw materials.
The traditional mode of making this cat's claw board uses woodworking jig saws and drawing wire saws, which are basically the same thing. There is no advanced equipment, and even this small equipment is improved by other industries. The production capacity is backward, the process is rough and not clean enough, and it is dangerous and unsafe. All manufacturers engaged in scratching boards know it.
Many manufacturers are distressed by not having a special device. They searched for relevant information and information on the Internet and found us. Professionally engaged in the cutting of flexible materials and non-standard five-model materials is our specialty, so we soon gave a cutting plan and began to serve the corrugated paper cutting and cat scratch board processing industries.
AOL1625PAS is an equipment specially used for corrugated board processing. It adopts an automatic control system, and the whole machine is a CNC machine tool. Anyone who knows our machine knows that AOL cutting machine, the software is easy to operate, does not need abrasive tools, and it cuts automatically. As long as the various structures of the climbing frame are designed in advance, the shape of the selected plate is designed, and the image is uploaded to the control software of the machine, fast cutting can be realized.
Manually only need to put the corrugated cardboard on the equipment and press the fixed clamping switch to fix it. Press the start switch to automatically process it. The processed shape only needs to be saved in the computer in advance. You can learn and get started quickly. The processed shape and process end surface (flash paper scraps) are very good, which directly saves the follow-up grinding and polishing process of the cat climbing frame, and reduces the manufacturer's production cost and labor expenditure.
The main components are imported and domestically produced standard components, provided by powerful companies, quality and after-sales have nothing to say, providing comprehensive and considerate services!
It also saves time and effort to make scratchers.
In fact, there are many uses for corrugated cardboard. To put it bluntly, you can do it first, and you can cut it quickly with our AOL machines.
https://aollaser.net/digital-packaging-industry-cutting-machine/