AOL CNC offers a wide selection of software applications, all optimized to deliver a state-of-the-art and streamlined digital control of the cutting process with best output performance as well as peripheral software solutions covering the overall cutting process from pattern design and optimization to the final cut product. Most of our software is optimized to specifically fit the needs of customers within the wall decor and picture framing or the composites and advanced technical materials sector.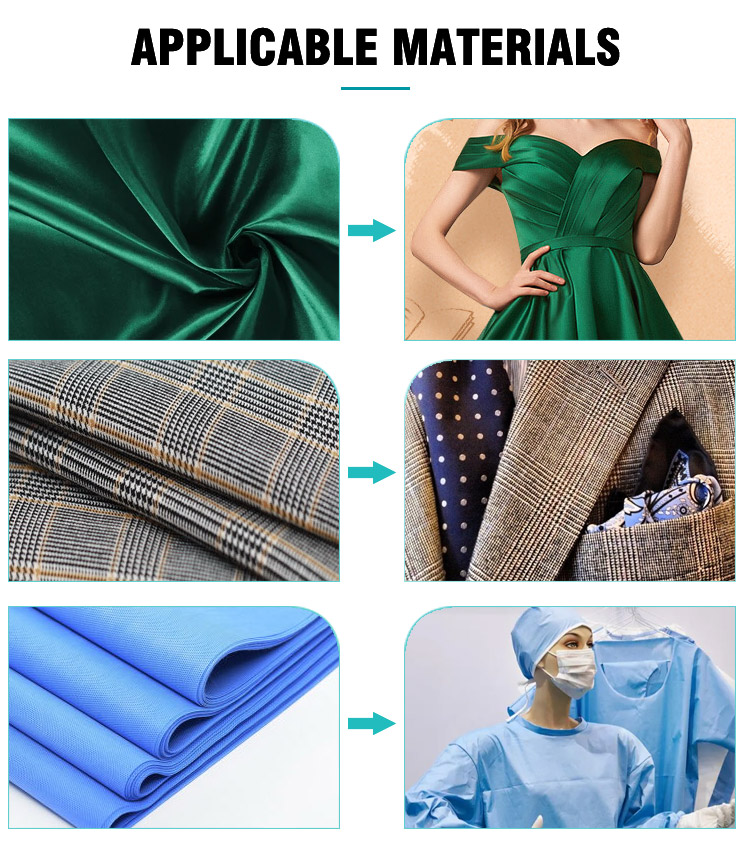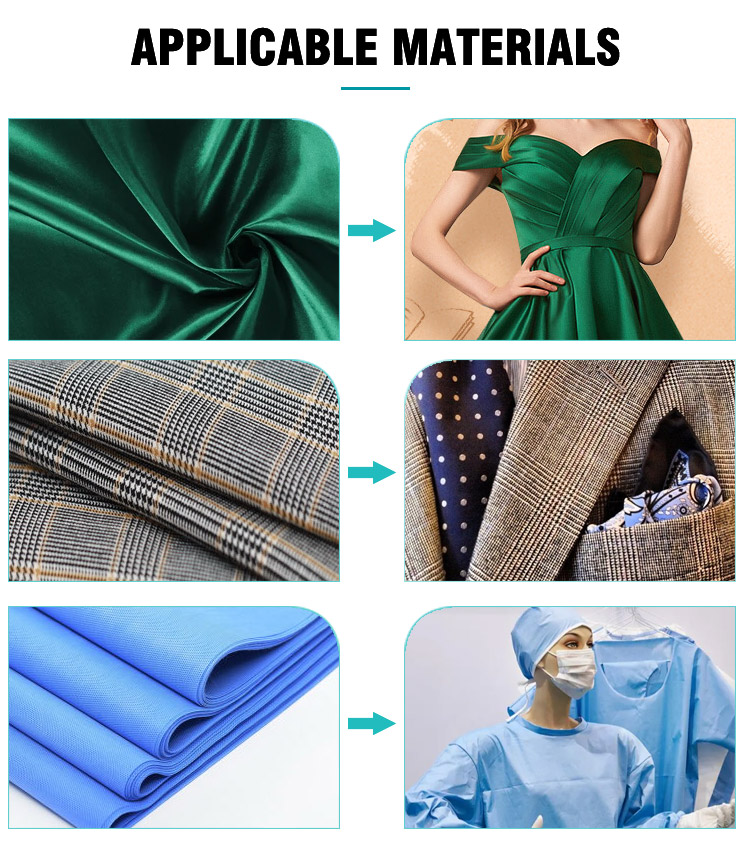 Usually suitable for the materials
Cotton cloth is generally used to make casual wear, underwear and fashion.  
Linen cloth is generally used to make casual wear and work wear. Its advantages are moisture absorption and heat conduction, strong air permeability, but its disadvantages are uncomfortable wearing and rough appearance.   
Silk is most often used to make women's clothing.   
Woolen cloth is usually used to make formal high-end clothes such as dress suits. Its advantage is that it is elegant and flexible, but its disadvantage is that it is more difficult to wash.   
Leather is generally used to make winter clothes. Its advantage is that it is light and warm, but its disadvantage is that it is expensive and requires high care.   
Chemical fiber is a textile made of fibers made of polymer compounds as raw materials.
Equip the tools to meet the cutting of cloth
Type

1625

1825

2125

Customized

Working area

1.6*2.5m

1.8*2.5m

2.1*2.5m

…

Feeding way

Auto feeding or flat table (either-or)

Cutting tools

Driven rotary tool,

Pounching knife(circular / V model)  

Mark pen, Pneumatic knife, CCD camera,

Projector, laser pointing.

Cutting thickness

≤20mm(depond on materials )

Cutting speed

200-2000mm/s

Material Fixing Method

Vacuum Suction

Driving system

Digital Servo Motor, Straight Rail

Machine size

3570*2290*1165/3570*2500*1165/3570*2800*1165mm

Applied material

Single / multi-layer glass fiber, glass fiber cotton, prepreg, carbon fiber, carbon fiber felt, aramid fiber and other flexible materials
Equipment advantages
1.Environmental protection: the knife cutting is without pollution, odorless and green
environmental protection cutting;
2.Intelligence: It can be operated by one person, with high degree of automation, and can realize automatic paving, automatic cutting and automatic feeding;
Material saving: intelligent softwareandfully automatic optimization processing path, configurable intelligent typesetting software can calculate material length, saving materials and reduce costs;
Stable: can work continuously for 24 hours;
Multi-function: can be arbitrarily matched with various tools to achieve cutting, marking, drawing, lettering, creasing, kiss -cutting, fullcutting;
Saving manpower: It completely replaces the process of manual design, proofing and cutting, helping you to save a lot of manpower, Steel Rule Die and the cost of material loss.
For more product performance information, click on the product to view details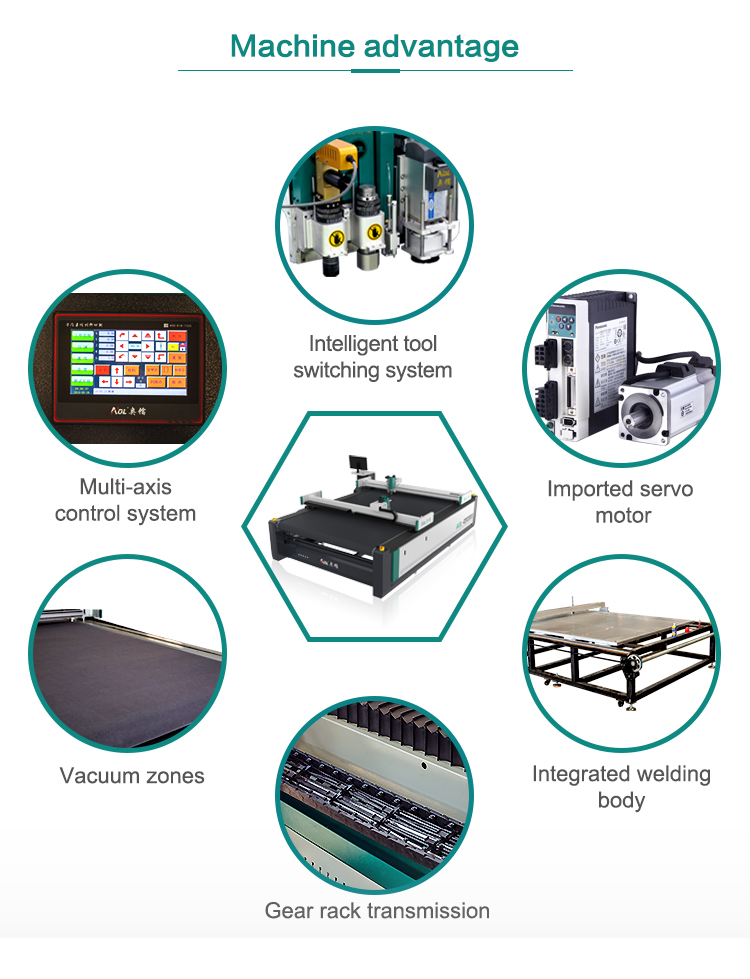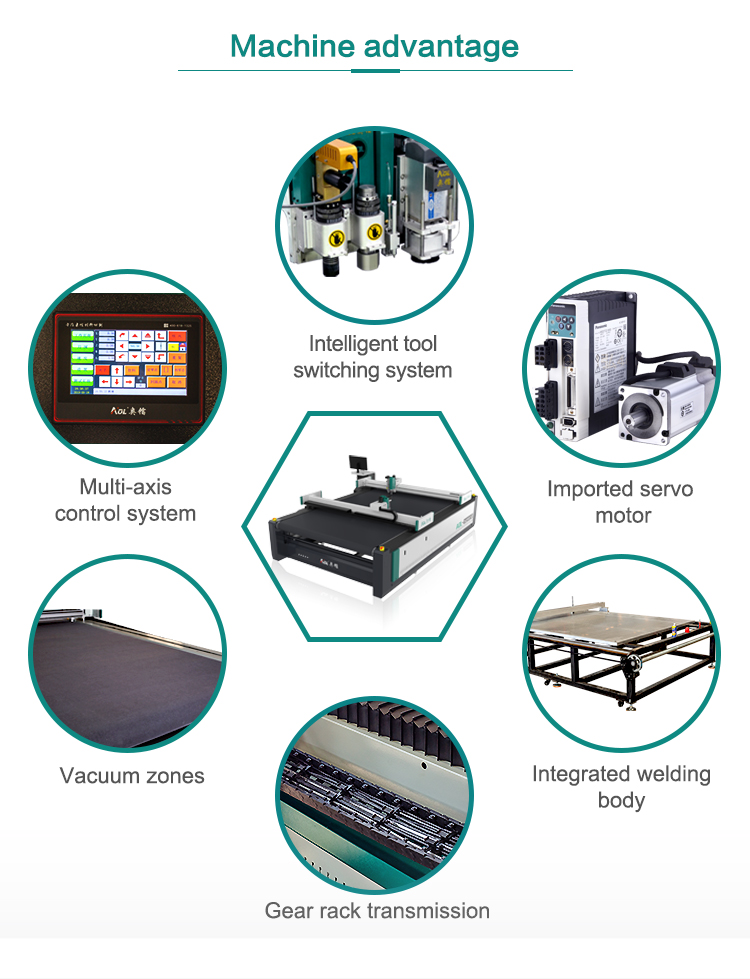 AOL service
1) Three-year free warranty (except vulnerable parts), free inspection and maintenance of main components.
2) Provide lifetime free technology upgrade service
3) Wearable parts (such as blades, workbench covers) are always available at cost when needed.
4) Free operation training is conducted in our factory. If there is not enough time, we will send detailed training videos.
5) 24-hour online service, providing free technical support in different languages.
6) On-site technical support can be provided when needed.
Learn more about product performance and company services, leave a message about your content, and professionals will give you feedback.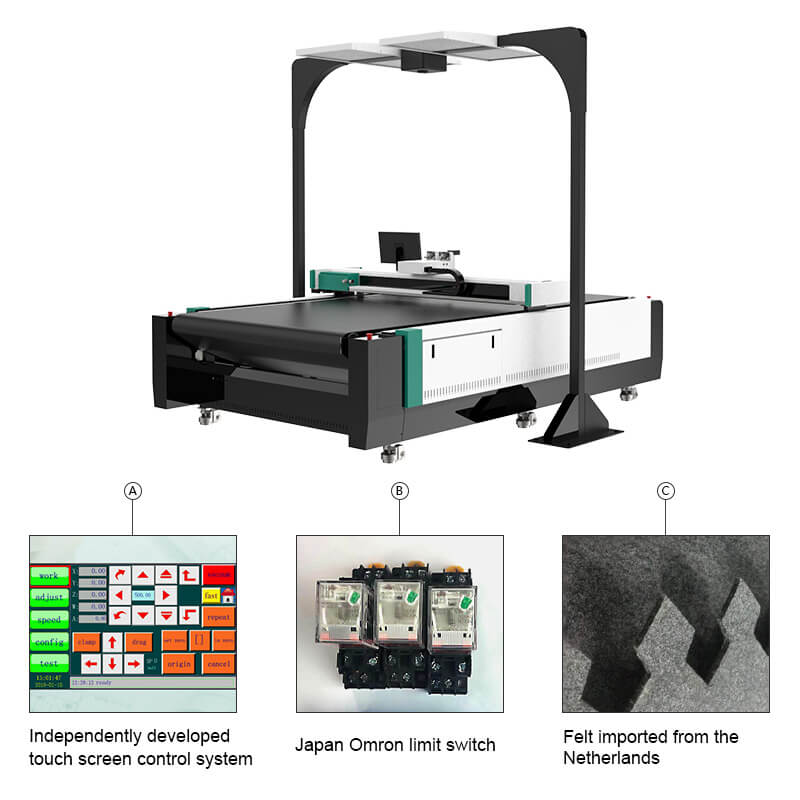 AOL CNC Equipment Co., Ltd. is a high-tech enterprise specializing in the development, manufacturing, sales and after-sales service of flexible material cutting and laser cutting machines. It mainly includes CNC intelligent blade cutting machines, internal engraving machines and other types of cutting machines. It can meet the cutting processing of acrylic internal engraving and flexible materials of different materials, and is widely used in advertising packaging, composite materials, carpet industry, clothing textiles, automotive interiors, and leather industries. In addition, AOL also has an independent CNC cutting machine brand AOYOO.
AOL CNC Equipment Co., Ltd. is a high-tech industry in China, an AAA-level credit enterprise. The product quality has undergone multiple tests and the after-sales system is complete. It has provided reliable CNC cutting machines for more than 8,000 users worldwide, and has provided many users Professional industry cutting assembly line solutions.