Features of Digital Carbon Fiber Cutting Machine
The carbon fiber cutting machine produced by AOL is specially developed for the composite material industry
In the field of digital knife cutting machines, the digital carbon fiber cutting machine, CNC prepreg cutting machine, which are at the leading level in the industry
AOL has developed composite material cutting system, to cut single ply and few plymaterial independently It adopts advancedcontrol system, imported milling cutters, which is with high cutting speed, high precision, strong stability Standardized and open interfaces allow for integration in any carbon fiber cutting service
Renowned companies in aviation, shipbuilding, sport, medical items, defense items, and automotive fields already rely on the high performance process technology AOL carbon fiber sheet cutting machine for sale.
And provide the best technical services, meets your needs.
Advantage of Digital Carbon Fiber Cutting Machine
1. Multi-functional fiberglass cutting machinethat can be quickly changed to adapt to different materials.
2. It has an IC control system that offers high-performance and convenient Ethernet with high speed.
3. The Cutter has an English and Chinese LCD touch screen panel and a massive storage volume system.
4. It has the functions of making dotted lines, partial and whole disconnections, perfect backfins, laser positioning and accurate plotting.
5. The platform detection device regulates the knife pressure automatically, enabling a level platform and perfect cutting.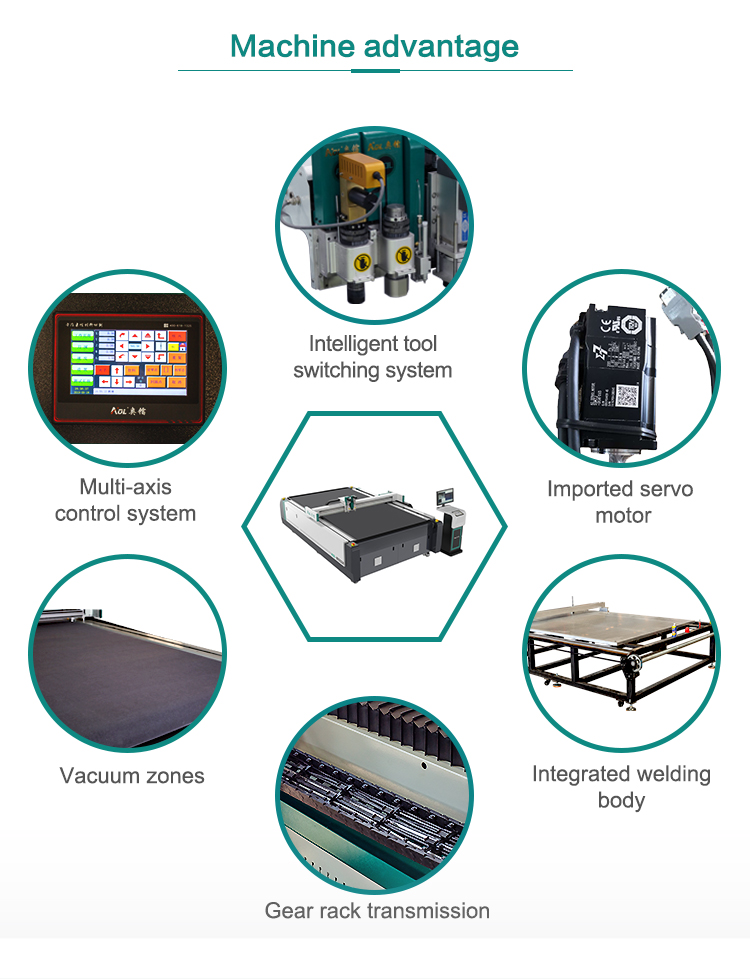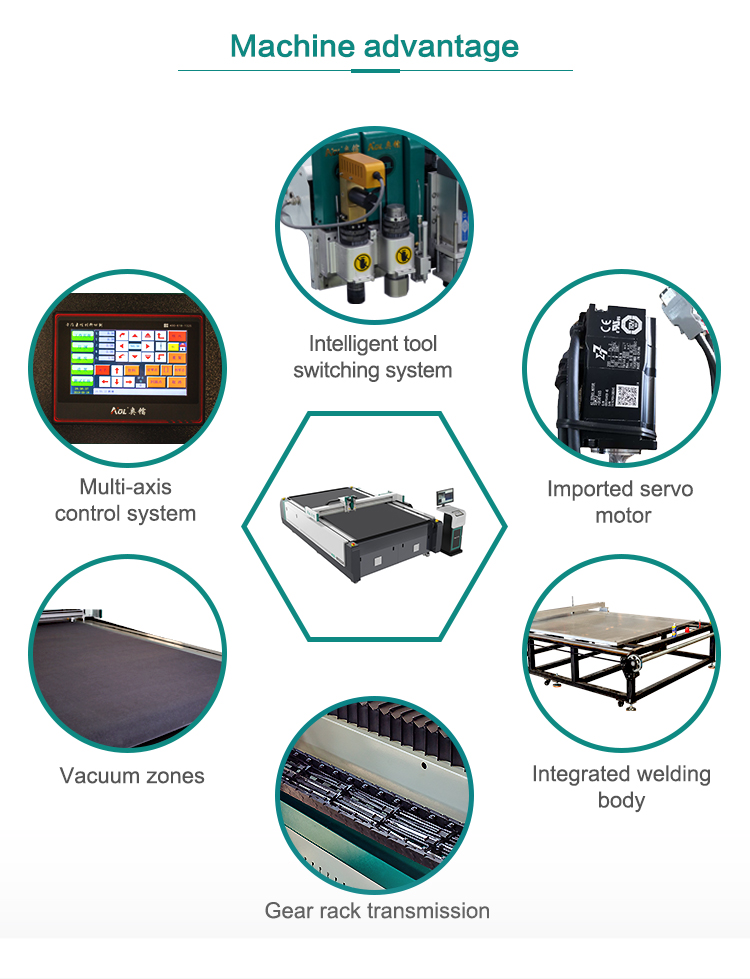 Specifications of Machines with oscilation knife that cut vinyl
| Technical parameters | AOL-FH1625-PS, AOL-FH1825-PS, |
| --- | --- |
| Effective working area | 1600*2500MM, 1800*2500MM |
| Multi-function cutting head | The combination of Multi-function cutting head and holders, be with full cut, kisscut, creasing wheel,v-cut and laser red light positioning functions, CCD positioning, Camera extract large contour to cut |
| Tools | Universal Drawing Tool, Creasing Wheel Tool |
| Moving speed | 800-1500mm/s |
| Repeat precIsion | ±0.05mm |
| Interface | Enternet port |
| Control panel | LCD touch screen |
| Drive system | Imported servo motor, linear guid, synchronous belt, screw |
| Cutting material | Paperboard, grey board, KT board, pvc foam board, honeycomb board, car sticker, lamp piece, PP Adhesive material, printing cloth, banner cloth, all kinds of corrugated board, EPE foam, EVA, PVC board, acrylic board, thick foam and so on |
| Instruction system | HP- GL Compatible format |
| Rated power | 2. 2KW |
| Rated voltage | 220V |
| Cutting thickness | ≤50mm(According to different material) |
| Material fixed way | Vacuum adsorption |
| Auto feeding system | Acuum sucker adsorpting sheet |
Detials of aol Digital Carbon Fiber Cutting Machine
1. Intelligent CNC cutting machine replaces manual cutting, increasing cutting efficiency by more than four times.
2. Choose smart blade cutting, and the CNC system controls the cutting accuracy and speed to maintain the consistency of cutting quality.
3. Support high-quality small batch customization and sample cutting to achieve high-end product-level technology
4. The use of physical cutting methods will not cause any pressure to the environment and ensure the safety of the employees' operating environment.
Using AOL's unique multiple tool options, one device can solve multiple processes. The machine can be equipped with cutter head tools such as vibrating knife, pressing wheel, beveling pen, and marking pen at the same time, which can realize cutting, creasing and marking at one time without changing equipment. Improve work efficiency and save equipment costs.
The machine has two transmission modes: belt and rack to choose from. Belt transmission is faster, and rack transmission makes cutting more precise. Can be selected according to specific needs.
The digital paper cutter adopts the latest digital intelligent technology, which is smokeless and dustless, and is more in line with environmental protection standards.
The bed weight is 1500kg, the machine will not shake when working at high speed, and the most important thing is that the accuracy will not deteriorate over time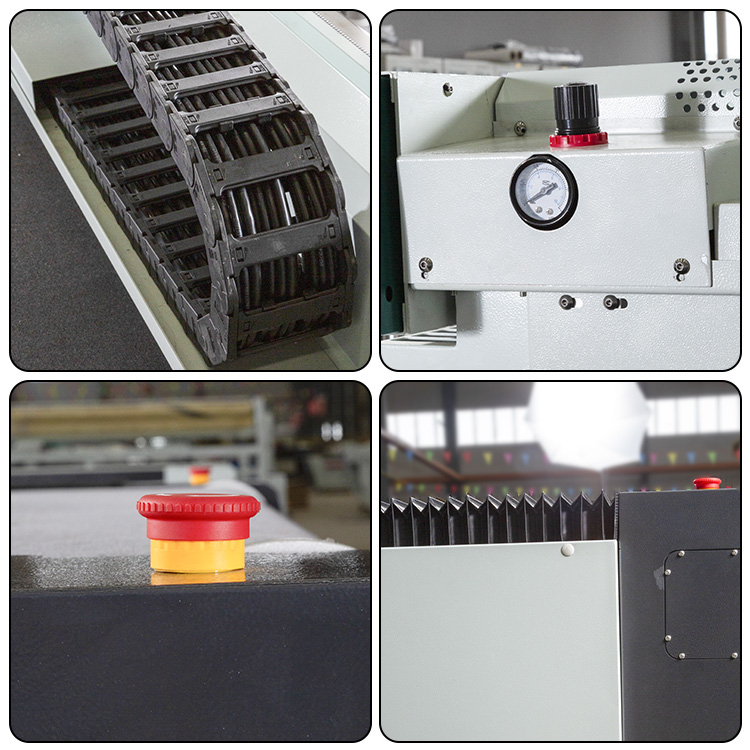 Cutting material display of Digital Carbon Fiber Cutting Machine
Application of Digital Carbon Fiber Cutting Machine
Leather, cardboard, fiber glass, corrugated cardboard, honeycomb cardboard, sticker, film, foam board,acrylic board, rebound rubber, rubber cloth, gasket material, garment cloth, footwear material, bags materials, non-woven fabrics, carpets, sponge, PU, EVA, XPE, PVC, PP, PE, PTFE, ETFE and composites.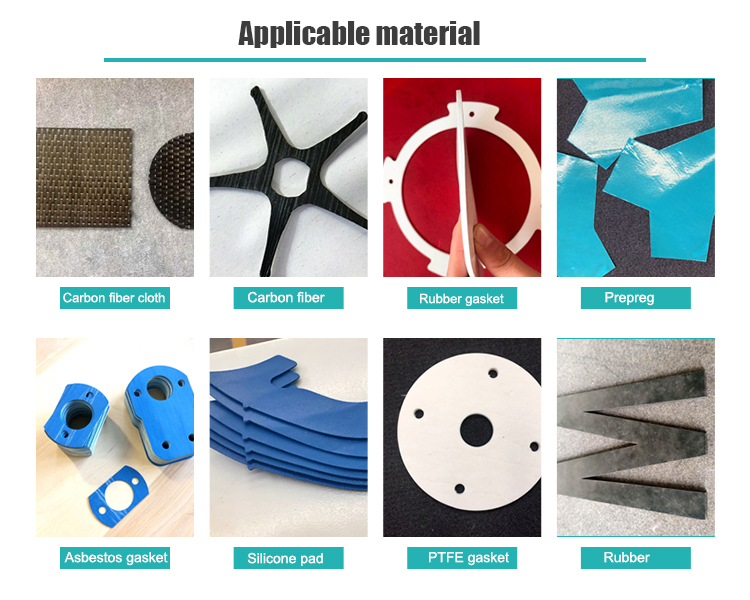 Packaging of CNC Cutting Machine
1. Outer packaging: standard seaborne export plywood box.
2. Inner packaging: stretchable film and plastic film to prevent moisture. Flexible packaging machine accessories
3. Personalization: If you have special requirements for packaging, you can negotiate friendly.
Shipping of Carbon Fiber
Cutting Machine
in general,the FOB delivery method is adopted, and the price is determined according to your designated delivery port and transportation distance. Please leave a message for reference, we have professional staff to calculate the price for you.
After sale service
1. Our standard warranty period starts from the completion of delivery. We provide you with a three-year warranty service and professional machine maintenance.
2. The wearing parts (blade, countertop) are sold to users at the lowest price.
Delivery time
we have our own factory. After placing the order, we will start manufacturing the sticker cutting machine. At the same time, we will make a reasonable delay based on the order volume of the month. Our delivery time is about 15-20 days on average, if you want to specify a time, we can arrange a reasonable time to complete the delivery.
Eight reasons to choose Machines with oscilation knife that cut vinyl
1. Advanced brand: ten years of professional CNC blades2. R & D advantages: a number of patented technologies, so that the company has a deep deposit
3. Quality assurance: all products have passed European CE certification. US FDA certification
4. High-quality materials: All CNC cutting machine accessories are selected from industry-leading brands.
5. Advanced technology: starting from Germany, foreign advanced technology, technical support
6. High efficiency: implement one-to-one service to improve the efficiency of corporate feedback
7. Personalized customization: With development and design functions, customers can do whatever they want
8. After-sales service: provide three-year warranty service and 24-hour online solutions.
About AOL
AOL CNC Equipment Co., Ltd. is a high-tech enterprise specializing in the development, manufacturing, sales and after-sales service of flexible material cutting and laser cutting machines, mainly including CNC intelligent blade cutting machines, laser cutting machines, laser fiber cutting machines, and laser cutting machines. Various types of cutting machines such as labeling machines can meet the cutting processing of metal materials and flexible materials of different materials, and are widely used in advertising packaging, composite materials, carpet industries, clothing textiles, automotive interiors, and leather industries. In addition, AOL also has an independent CNC cutting machine brand AOYOO.
The company is strong. AOL CNC Equipment Co., Ltd. is a high-tech industry in China and an AAA-level credit enterprise. The product quality has undergone multiple tests and the after-sales system is complete. It has provided reliable CNC cutting machines for more than 8,000 users worldwide. Provide professional industry cutting assembly line solutions for many users,
AOL is committed to multi-industry flexible material cutting solutions for global users. The annual output of high-quality CNC cutting machines in the AOL factory can reach 2000 units, and each machine is provided with a three-year warranty service.
Packaging of Machines with oscilation knife that cut vinyl
1. Outer packing: standard seaborne export plywood box.
2. Inner packaging: the machine and parts are wrapped in plastic film for moisture-proof and soft protection
If you have special requirements, we can negotiate friendly.
Transportion
There are many options for transportation, and the default is sea transportation. If you have special requirements, please specify in advance.
Price, according to your destination information, transaction method, transportation method, we will provide you with a specific quotation.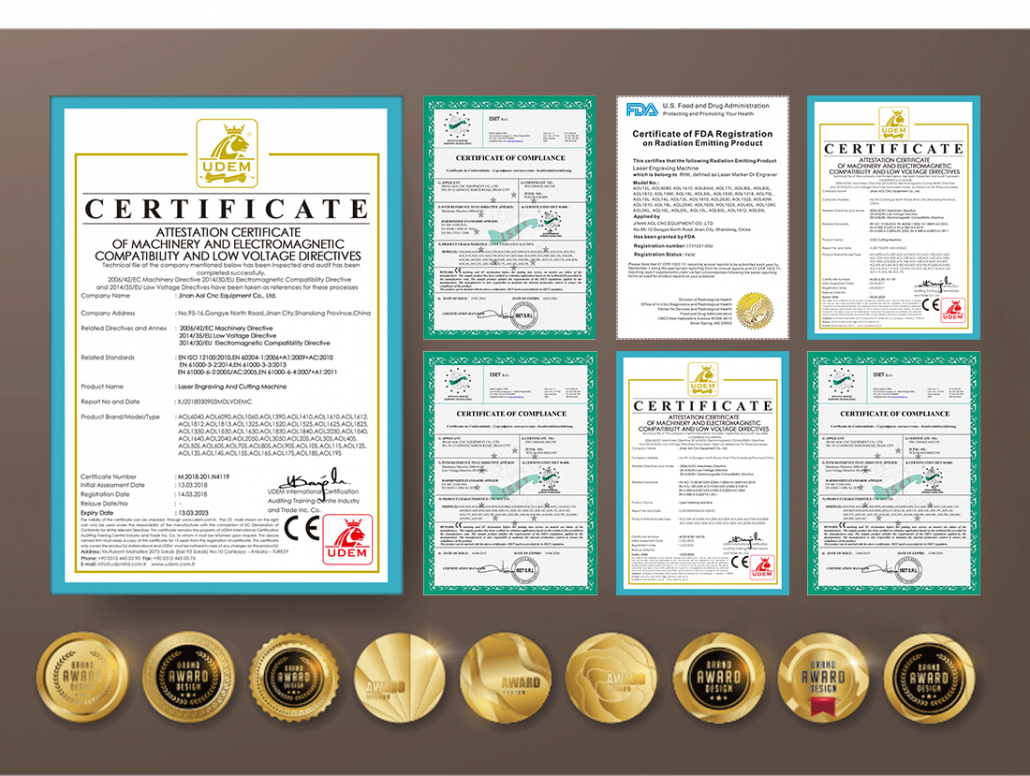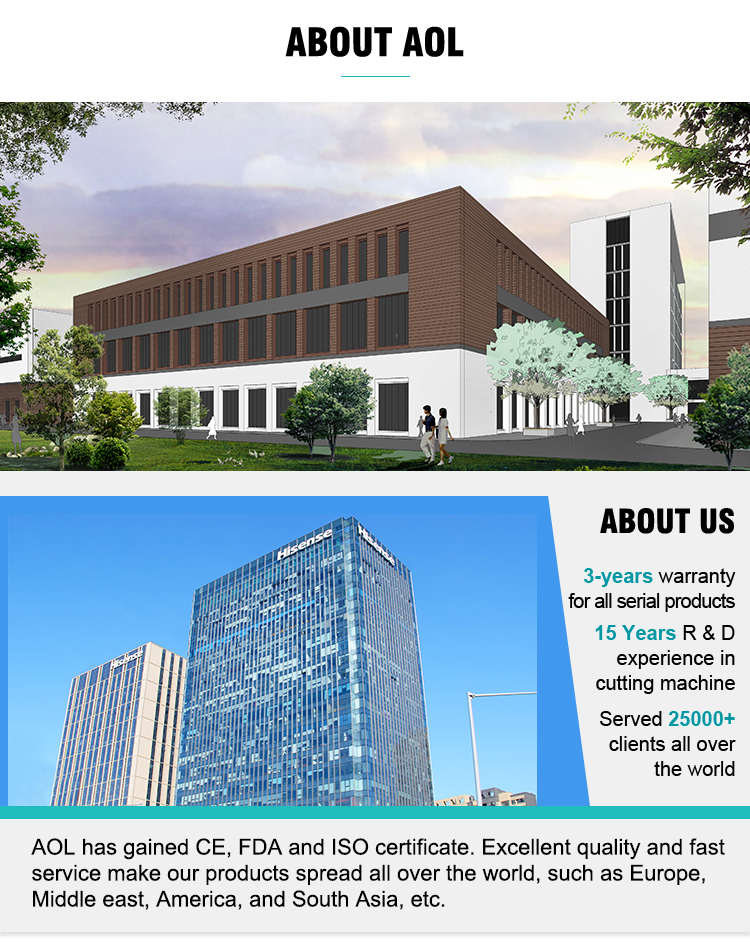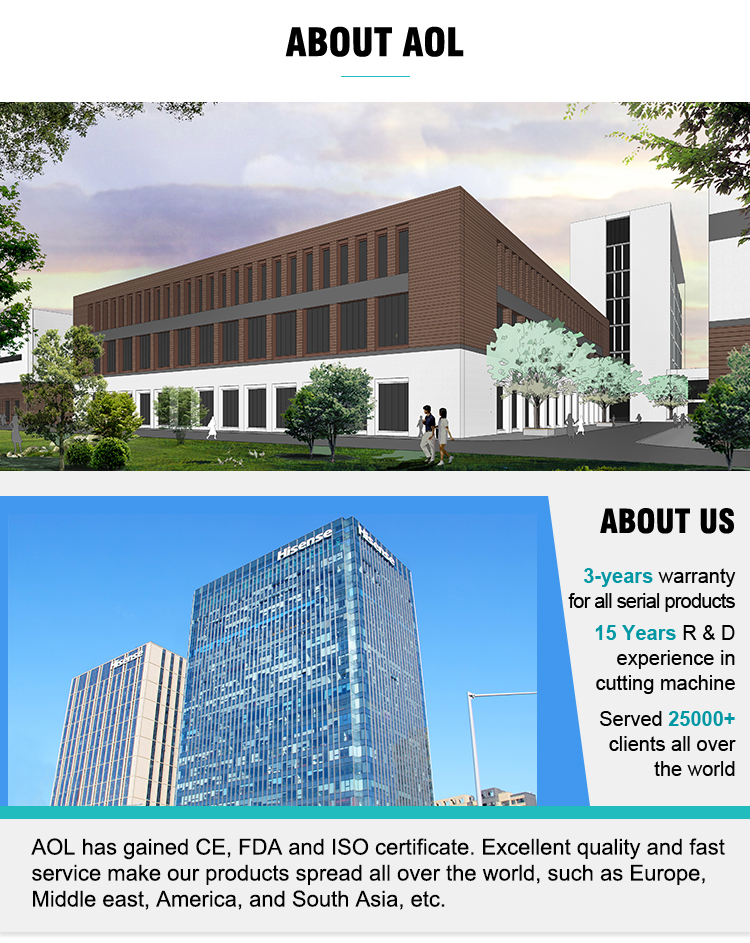 AOL CNC cutting machine is suitable for product customization or sample cutting. It can automatically and accurately perform cutting and other processing. CNC cutting machine supports different types of cutting, (such as through cutting, kiss cutting. V-groove, compliance, milling, etc.
AOL intelligent blade cutting machine has high precision and high efficiency. Our professional after-sales service can provide automatic cutting solutions for various industries.
For more information, please consult:
Email: [email protected]
Phone: +86-531-88620680
WhatsApp/We Chat: 0086-18560162709
youtube: https://www.youtube.com/channel/UCDiNQSjBR5DsAX9QfkWF7AA
Website: https://aollaser.net/
CONTACT
No. 1777 Chunhui Road, Licheng District, Jinan City, Shandong Province, China
+86-531-88620680
0086-18560162709
+86-531-88965706